PDF Manuals ,alarm reset, Rain Soft EC4 Oxytech water treatment system softener
Condition:

New

Time left:

25d 20h 5m
Shipping:

$0.0

Ships to:

AU, Americas, Europe, Asia, ZA

Item location:

Orlando,FL,USA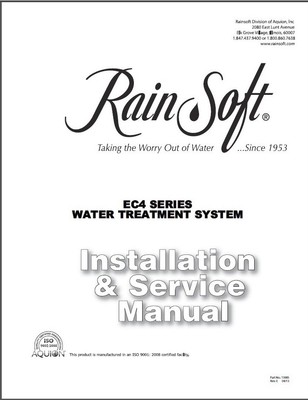 Brand:
Rain Soft
Model:
EC4 oxytech
MPN:
15985, 16375 rev E
Type:
Rainsofft EC4system manuals
 Included in this sale is the  PDF versions of the maintenance and installation manuals for the EC4 Oxytech water treatment system by Rain Soft and a printed page on how to reset the service alarm. Their numbers and names are: 15985 rev E installation & service manual; 16375 rev E Oxytech Install Service & a document titled "resetting the service alarm.docx"  that is on the disk in these three formats: .doc, .docx & .txt.All of this is included on 1 CD. You need a .pdf reader such as the Adobe Reader installed on your computer to be able to view or print the .pdf manuals & I think Office 2007 or 2003 later to view or print the .docx & .doc files. The"resetting the service alarm" document is instructions about how to reset the nuisance alarm built into the equipment that is preprogrammed to go off at regular intervals to generate an unneeded service call, a service technician told me.
Important FYIs about this Rain Soft system: Other information about this Rain Soft System is that while it is some of the very best equipment and I am very happy with it, it is also extremely overpriced at Home Depots in Orlando Florida for $8,500 for the full system and the sales person (from a company partnered with Home Depot) who came to my home was high-pressure & she gave me so much false information that I signed the contract for it three times & backed out twice! So they kept calling & renegotiating the contract with me until I eventually bought it for $4,500 with a 5 year parts and labor warranty. (the sales person said it was lifetime but it was 1 year parts and labor and 2 years parts). The other big lies the sales lady told me were about the warranty & about installing it outside without shelter in the ground & that it would function down to 32 F. Plus after I signed the first time, they were on the phone from the installation department pushing me to let them install it that Friday evening, which made me very uneasy....
* Seller assumes all responsibility for listing above.